Dr Mark Keppel receives the Keith Scott Memorial Prize at ARGA 2018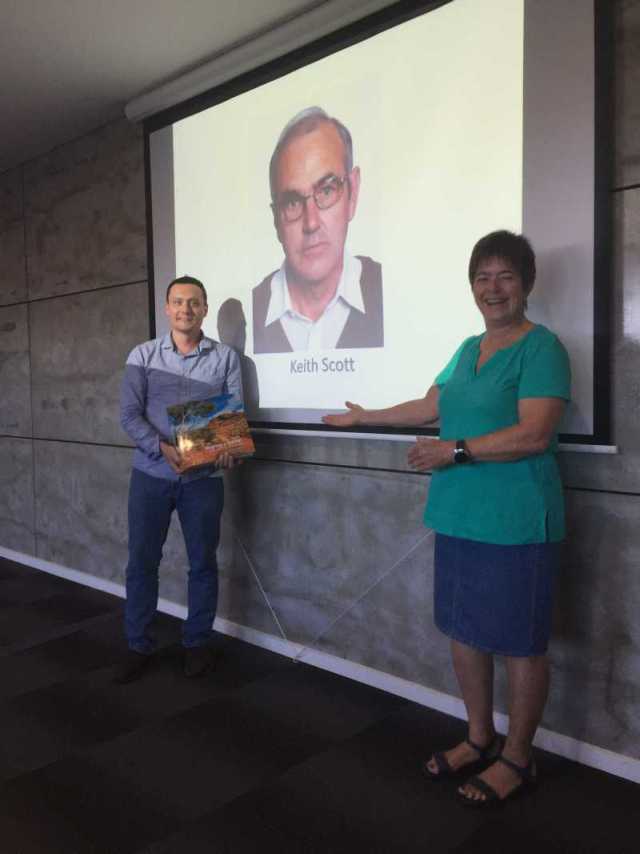 Mark Keppel accepts the ARGA 2018 Keith Scott Memorial Prize from Trish Fanning.
Dr Mark Keppel is an earth scientist with 20 years practicing experience in hydrogeology, geology, environmental and contaminated land sciences, applied geochemistry and water chemistry. Mark first became involved with the regolith geosciences while working in gold exploration in the Tanami Desert, Northern Territory in the late 1990's and has continued to be involved since this time. Mark completed his PhD examining the geology and hydrochemistry of mound spring environments in the Kati Thanda (Lake Eyre) South region of South Australia in 2013. He currently works for the South Australian Department for Environment and Water as a Senior Hydrogeologist, where his particular focus is on the groundwater resources and spring environments of the Far North of South Australia.
The Keith Scott Memorial Prize for best presentation at ARGA 2018, a copy of 'Shaping a Nation: a geology of Australia', was sponsored by Geoscience Australia.